CookAble Class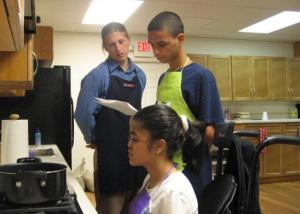 disAbility Solutions has a fully accessible kitchen that is used for the CookAble, Independent Living Skills, Class. Individuals with disabilities are taught how to modify the cooking environment to best fit their needs and get the essential tasks completed. Variously modified cooking utensils are used, as well as standard utensils in each class. Each student in the class is given individualized attention to assess their needs. The class also teaches such skills as nutrition, budgeting, food sensitivity awareness, shopping as well as organizational and cleaning skills.
Service Animal Class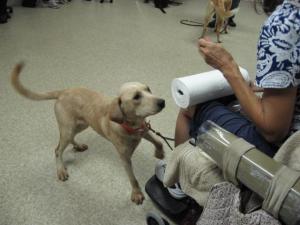 disAbility Solutions partners with My Angel with Paws to provide this class for our consumers. This class is designed for people with disabilities who would benefit from the services provided by a service animal and would like to be matched with an animal to train. The service dogs are provided by My Angel with Paws. Both the animal and the person with the disability are trained together, which is a very unique and effective strategy. Examples of the types of Service Animals this class can train are  mobility dogs, seizure response dogs, PTSD and balance assistance dogs.
"Kahi is not a member of the family and Bob and Mary continue to see their lives change for the better."  To read the entire story, click here.
Bob entered the army in 1971 and rose to the ranks of Sergeant Military Police Officer and he proudly served his country.  While in Germany, he became a plainclothes officer in order to break up a drug ring on the base.  He worked undercover a little over a year.  When he busted the drug ring he had to turn in some medics that were abusing morphine and selling it to military staff.
Bob was in town one night and exited a bar with his friend.  One of the medics recognized him when he exited the bar. There were four medics waiting for him.  He sensed something was wrong and he thought one of the medics was going to start a fight because he was threatened with a fist.  He saw the knife in one of the medic's hands.  The medic with the knife approached him and Bob was able to knock him down.  Then another medic attacked Bob and stabbed him in the stomach.  Even after he was stabbed he pursued the medics.  He was holding his stomach while being driven by a German police officer who called an ambulance and he was medevacked to the hospital.  He was bleeding profusely, his stomach wall was punctured and he spent 4 days in ICU.
After discharge, Bob never calmed down from the stabbing.  He continued to be nervous and was always making sure he knew where the nearest exit was from any room.  If he saw anyone with a simple band-aid on them he would begin planning how to defend himself.  Due to the impact of the stabbing, Bob left the military in 1977.  He was preparing a defense plan all the time which kept him on edge with increasing anxiety.  Even today, Bob still plans his exit or defense plan.
The psychological impact of the experience resulted in high anxiety.  Crowds would cause Bob panic attacks. He developed Post Traumatic Stress Syndrome.  He experienced nightmares and his stress continued.  Over time, he developed agoraphobia placing a significant burden on his wife, Mary. Bob and Mary heard that a service animal might be able to help him so they contacted disAbility Solutions (DSIL) for assistance.  When he first started attending service animal class at DSIL, Bob's hands and legs would shake during class and he was unable to control his body's response to stress.  When he was given Kahi (his service animal), she laid her head on his feet sensing his high anxiety and seeing his legs shake, and that simple act started to calm Bob.  Now Kahi is his constant companion and Bob now goes out independently and to places, he would never have attempted to go to before.  Kahi wakes Bob up before he has a nightmare and diverts the experience for Bob.  Kahi also assists with his balance and bracing.  Bob fell in the shower and Kahi went and got Mary for help.  Kahi picks items up, retrieves objects for him and sometimes carries his medicine in her jacket.
The presence of Kahi has now provided a significant decrease in Bob's reliance on Mary.  She was able for the first time in a long while, to go out to meet with friends that had fallen by the wayside due to the constant need to care for Bob.
Kahi is now a member of their family and Bob and Mary continue to see their lives change for the better.  If Bob did not have Kahi he would be totally homebound.  Bob enjoys fishing on his own or with friends.