disAbility Solutions has a fully accessible kitchen that is used for the CookAble, Independent Living Skills, Class. Individuals with disabilities are taught how to modify the cooking environment to best fit their needs and get the essential tasks completed. Variously modified cooking utensils are used, as well as standard utensils in each class. Each student in the class is given individualized attention to assess their needs. The class also teaches such skills as nutrition, budgeting, food sensitivity awareness, shopping as well as organizational and cleaning skills.
Service Animal Class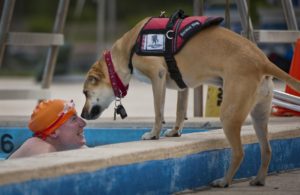 disAbility Solutions partners with My Angel with Paws to provide this class for our consumers. This class is designed for people with disabilities who would benefit from the services provided by a service animal and would like to be matched with an animal to train. The service dogs are provided by My Angel with Paws. Both the animal and the person with the disability are trained together, which is a very unique and effective strategy. Examples of the types of Service Animals this class can train are  mobility dogs, seizure response dogs, PTSD and balance assistance dogs.