disAbility Solutions has a fully accessible kitchen that is used for the CookAbles Independent Living Skills Class. Individuals with disabilities are taught to modify the cooking environment to best fit their needs to complete essential tasks. Each class uses variously modified cooking utensils, as well as standard utensils Each student in the class is given individualized attention to assess their needs. The class also teaches such skills as nutrition, budgeting, food sensitivity awareness, shopping, organizational and cleaning skills.
Employment Services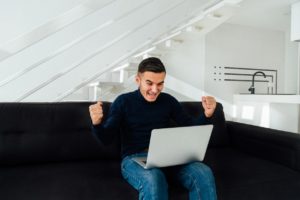 DSIL contracts with Florida's Division of Vocational Rehabilitation to assist persons with disabilities in finding and retaining gainful employment. Our Employment Specialists work one-on-one with consumers to create a customized employment plan. This process ensures each job placement is aligned with the goals and abilities of our consumers.
Vocational Rehabilitation Career Camp
* Career Camps for Students ages 14 to 21
Job Exploration Counseling: Interest and ability surveys, review of career websites, high school based courses on career choices, or other similar activities.
Postsecondary Educational Counseling: Counseling on postsecondary educational institution options, counseling on the assistance available through Disability Services Offices and exploration of student financial aid options and supports.
Workplace Readiness Training: Soft-skills training, employability skills training, social/interpersonal skills (i.e. communication, problem solving, decision making, conflict resolution, empathy, professionalism, etc.) and independent living skills training related to employment (i.e. good hygiene, money management, time management, using technology and assistive technology, appropriate dress, appropriate behavior, etc.).
Work-based Learning Experiences: Work-based learning experiences in the community including field trips, job shadowing, informational interviews and industry tours. Paid and unpaid work experiences are not available through Career Camps.
Self-Advocacy Training: Instruction in self-awareness, disability disclosure, requesting accommodations, understanding your rights and responsibilities, self-determination and mentoring including peer mentoring.